Women+Film celebrates the art and cinematic contributions of women filmmakers from around the world in all formats, content, and genre.
"We need to create mythologies around the few female directors who emerge from the pack."
Martha Lauzen, Professor at San Diego State University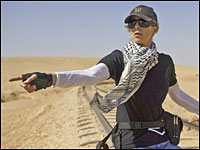 Only one woman has won an Oscar for Best Director, Kathryn Bigelow in 2009. Only four have been nominated: Lina Wertmuller (Seven Beauties, 1976), Jane Campion (The Piano, 1993), Sofia Coppola (Lost in Translation, 2003), and Kathryn Bigelow (The Hurt Locker,2009).
Women+Film presents women's voices through film, provides opportunities for diverse audiences to discuss current issues, promotes audiences to action, and produces social and professional networks.
Women+Film was founded in 1995 by philanthropist and activist Barbara Bridges.  Throughout the year, Women+Film presents a series of film screenings featuring women in leadership roles, female directors of note, or current human rights issues that women are facing today.  Programs are designed to inform, educate, and entertain. Filmmakers and experts on the topics are in attendance and participate in a dialogue with diverse audiences. In collaboration with the Denver Film Society, during the Starz Denver Film Festival each November, Women+Film hosts an informative panel discussion centering around a common theme from films in the Festival or topics pertinent to the organizational mission.
Building a professional or social network for audience members is an important aspect of Women+Film. Based on the topics addressed in its programs, Women+Film outreaches to human rights organizations working on similar issues and galvanizes audiences into action. Finally, Women+Film recognizes the contributions of women in film through awards and presentations at events and fundraisers. Understanding the importance of self-expression through film, it is a goal of Women+Film's to provide scholarships to film classes to deserving young girls. Women+Film creates programming partnerships with many other arts and cultural organizations.
Founding Members
The goal of Women+Film is to educate, cultivate, and entertain new audiences so we look for support from women and men alike.
On August 13th, 2009, the NY Times wrote, "the economic slowdown and tight credit has squeezed the entertainment industry…resulting in significantly fewer big-studio films and an even tougher road for smaller-budget independent projects" . Considering that in 2008 only 9 % of the 250 top grossing films were directed by women, the odds are definitely not in favor of female directors (NPR, 2009). We believe that if we reach the $1 million mark we can truly make an impact not only in the film community, but also in the global community impacted by these films. To do this, we need 1,000 funding members at $1000 each. Take a look at the amazing members we have to date:
Lesley Dahlkemper
Chris Findlater
Joy Johnson
Dottie Lamm
Caz Matthews
Constance Mortell
Karen Onderko
Dean Prina
Gail Schoettler
Mary Sissel
Paul Slevin
Judith Wagner
Judy Wahler
Mary Zinn
If you are interested in becoming a founding member click here.
Sign up for the Film for Thought Newsletter